Student Council
The Collegiate
---
Student Council is in charge of organizing Halloween events, sponsoring a family for the Christmas Cheer Board, collecting food for UW's foodbank, organizing a Coffee House to showcase our in-house talent, and planning a Spirit Week in March.
Student council elections will occur in September.  After the executive council members are elected, the group will meet Mondays at lunch in 1W09, all students are welcome to attend.  The student council advisers are Ms Braun and Ms Pasieczka.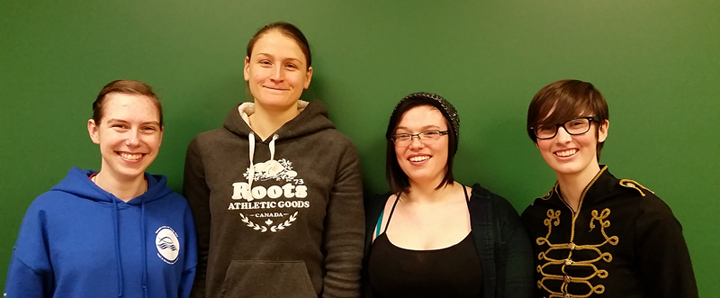 Update on your 2015/2016 Student Council:

Hello friends!
Now that we are entering the second half of our academic year, I would like to take some time to celebrate the things we have accomplished so far and to look ahead to what's next.
We started off the year with a very successful lunch hour of campaigning, in which you did not fail to participate. We were very excited to meet you and we hope you enjoyed the baking and other goodies.
After becoming your Student Council Executive, we got to spend time with you again at our Meet Your Student Council Event, where you also had the opportunity to get to know your grade representatives as well as each other through a fun game of Name Bingo!
Upon returning to classes after October exam week, we were pleased to see everyone quickly get in the Halloween spirit for our annual Halloween Spirit Week. I would like to again say thank you to everyone who participated and congratulations to those who won prizes at any of our activities, including (but not limited to) the costume contest, pie eating contest and our grand prize draw!
Our last major event before the break was our Holiday Hamper. Thank you so much to everyone who contributed, as I believe this was the most successful hamper collection I have seen in my time at the Collegiate! A special thank you goes to Ms. Janzen and those who contributed crafts to the First Annual Collegiate Holiday Craft Sale for donating 50% of their profits to the hamper, as well as to Olaf and Ms. Pasieczka for keeping track of coins coming from seemingly every direction and updating our fundraising poster! I would also like to thank Ms. Pasieczka and Ms. Braun for donating their time to go shopping with us, as well as for their support and guidance at every meeting. I felt very proud of our school when I got to participate in the delivery of the hamper, as it is always a very rewarding experience to be a part of.
As exciting as this all is, we are only half way through the year and there are many more events and projects to look forward to! As a group we have discussed doing another fundraising drive in the New Year. While our goal has not yet been determined, please keep your eyes open for this exciting opportunity.
We also look forward to hosting our annual Collegiate Coffee House. If you are interested in performing, sign-up sheets will be advertised when they become available. I would encourage anyone who has ever considered performing to join us, as it is always a very supportive space to express your artistic talents.
Other events, such as Spring Spirit Week, have yet to be finalized and we are always open to additional ideas.
I would like to conclude by reminding students that on Mondays at lunch in 1W09 our door is always open (often metaphorically if we can't get our hands on a door stop). If you had been considering attending a meeting but never gotten around to it, now is not too late to join us! We look forward to hearing your ideas and having your help with future events.
Sincerely,
Julia Antonyshyn
Prime Minister, Student Council Executive