People
The Collegiate
---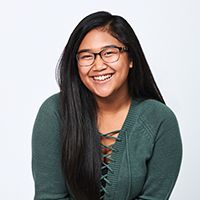 Singer and future pediatrician.
Jovy chose to enroll in the Collegiate because of its strong reputation. She was looking for an education that would make her transition to university easier, so she followed in the footsteps of two of her cousins who'd graduated before she arrived.
"They only had great things to say about the Collegiate, so I decided to come see how it was for myself," she said.
Her favourite class is biology, where she enjoys making connections and understanding how the human body works. She has been working hard to get her grades up and appreciates the supportive environment of the Collegiate.
"Everybody here wants to succeed and excel, meaning that everybody is willing to help one another."
She loves to sing. She has taken many lessons over the years, and though she doesn't sing as much as she used to it is still something she enjoys. These days, she spends her spare time volunteering at Grace Hospital where she is learning what it's like to work in a medical environment.
---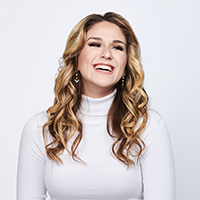 Student leader and future scientist.
Mariella chose the Collegiate because it gave her an opportunity to exercise independence and create positive change in the community.
When she isn't studying you may find her singing in the choir, volunteering in the community or fundraising for one of the many causes close to her heart. She has been recognized with a Government of Canada History Award and participated in a Canada 150 & Me trip to Montreal for her representation of "One Country Unified by Diversity".  She is chair of the Collegiate's 2019 grad committee, a member of the wellness club, yearbook committee and student council. She has played a key role fundraising for Action for Aid, planning a charity flash mob and a basketball event to raise funds for the organization.
My experience at the Collegiate has helped mold me," she said. "With the help of advisors, I have been able to clearly form a path for my future success. I have grown my passions and learned what truly inspires me."
After graduation she plans to seek direct entry into a Bachelor of Science degree to pursue a career in medicine. 
---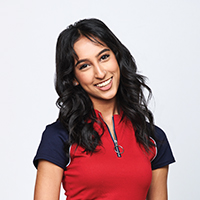 Dancer and future civil engineer.
Shaina chose the Collegiate because it offered an environment where her maturity and passion for education would be respected. Her favourite class is physics, where she loves applying math to real-life scenarios to understand the movement of everyday things.
Over the years, she has participated in debate club, volleyball and soccer. Now in Grade 12, she is active on the grad committee and student council. She is also one of the founding members of a newly-created dance club at The Collegiate which allows students and faculty of any level to dance in a respectful, fun and judgement-free environment.
"My favourite thing about being a student at the Collegiate is the opportunities it has presented me with, the leadership skills, independence, and self-confidence it has allowed me to develop," she said. "Being on a university campus allows the transition into university to be smooth and less intimidating."
Outside of school, she studies Bharatanatyam dance, is training to become a lifeguard and volunteers at various organizations such as The Joyful Project, We Day, Fringe Festival, Folklorama, Let's Talk Science and more.  She recently received the 2018 United Way Volunteer Service Award, recognizing her passion for volunteering in her school and wider community.
---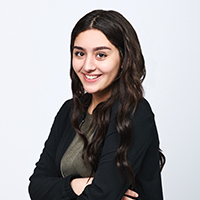 Athlete and future bio-systems engineer.
Sumaiya chose the Collegiate because of the opportunity to take advanced classes and prepare for university. She loves her physics class where she is learning to apply math in everyday situations. She says she is inspired by the way it is taught.
"I especially love the teachers as they are always a help when it comes to furthering my education and inspiring me to take specific career paths," she said.
Not only do her teachers give her valuable advice, she also appreciates being able to meet with her dean one-on-one for help planning her education.
Sumaiya is always looking for opportunities to challenge herself, whether as part of the debate club in Grade 9, or reading about and learning different languages, which is a constant passion. She loves to stay active and when she's not in class, you'll likely find her running or playing basketball. She played for the Wesmen basketball team in Grade 9 and 10.
Currently in Grade 11, she plans to study environmental issues and bio-systems engineering after she graduates, goals that her teachers have inspired her to pursue.