UWC Alumni Report: Mariam Busari (Class of 2020), Finding success at University during a pandemic
Thu. Mar. 31, 2022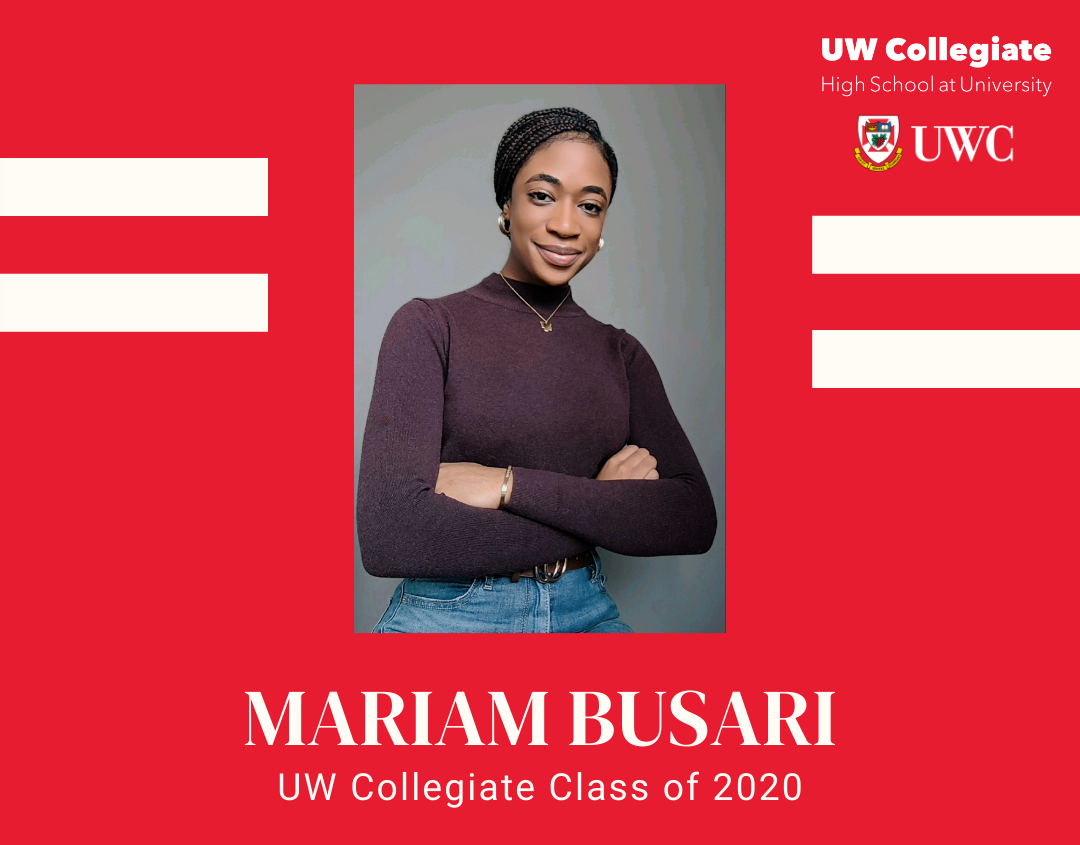 [Photo courtesy of Mariam Busari]
Collegiate alumna, Mariam Busari is an ambitious, Muslim, Nigerian Canadian, who is exploring and embracing adulthood. While attending the Collegiate, Mariam was one of the founding members of the Collegiate Wellness Club and had the opportunity to take Psychology 40S. According to her, this generated opportunities to foster her passion for healthcare and refined her interest in mental health.
After graduating in 2020, she chose to begin her studies at the University of Alberta. With a deep respect for the privilege of education and enthusiasm for learning, she was inspired to pursue a BSc with a specialization in Psychology. While moving to a new province in a middle of a pandemic wasn't ideal, Mariam has thrived in her new space and remains captivated by her degree.
Mariam continues to acknowledge the disparities in opportunities, spaces, and resources for all, which has led her to work on several projects over the last few months. She is one of the lead coordinators working on Food for Thoughts: a student-designed app to provide warm meals, reduce food waste, and increase accessibility and availability for minority students at the University of Alberta. She has also been volunteering with Tolani Makanjuola, the creator of College Bud: a program for minority students who are applying for higher education in Canada, to provide them with appropriate resources, opportunities and encourage informed decision-making through the university application process.
"I am grateful for the community, discipline and opportunities that the Collegiate allowed me to immerse myself in at a young age, which continues to drive my success and passion today", she says. Mariam is proud to have shown her dedication and initiative to create spaces, facilitate opportunities and representation for all. She hopes to start an internship with an organization centered on mental health in the summer of 2022. In the long run, she hopes to complete her undergrad in 2024 and continue her education to pursue a career as a psychologist.
You can check out Mariam's latest project with Tolani Makanjuola at https://collegebud.carrd.co/.