About Winnipeg
The Collegiate
---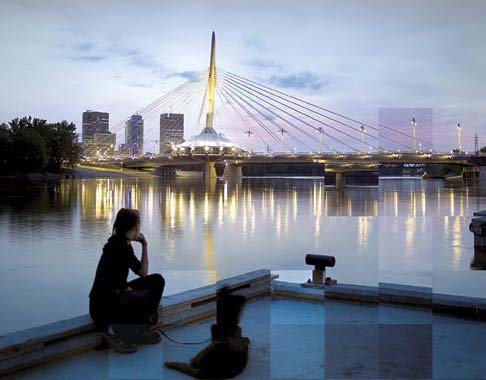 Get More. Get Downtown.
As a new student at The University of Winnipeg you'll get to experience everything downtown Winnipeg has to offer. From ethnic cuisine, a world-class skateboard park, vintage treasures, fine art, to lively festivals, there is something for everyone! Get the feeling that's only found here - in the heart of the city.
Winnipeg is a vibrant and diverse city and the University's downtown location, makes it the ideal place to explore from. You're minutes away from our largest arts and cultural events, sporting venues, recreation and entertainment facilities, amazing food and shopping. It's the perfect spot to discover our long tradition of excellence in the arts, see the latest show, or take in a professional football, hockey, and baseball game.
More than just city life, the area offers the absolute best of the great outdoors. Find yourself relaxing along miles of white sandy shoreline at Grand Beach, rated one of the best beaches in North America or get moving on our endless biking and hiking trails. Our prairie city boasts stunning sunsets, northern lights and the largest urban forest in Canada, drawing visitors from around the world to enjoy its natural beauty.
Winnipeggers love to celebrate year round with concerts, festivals, fireworks, and parades. Known as the Christmas Capital of Canada, we can almost guarantee snowy holiday season perfect for winter activities like skating, sleigh rides, and skiing. With 358 hours of sunshine in the winter months, Winnipeg offers the sunniest winters in all of Canada.

Winnipeg Attractions:
One of North America's top 10 beaches within an hour's drive
Stunning provincial parks for hiking, skiing, camping, swimming, and more
Mild springs, hot summers, colourful falls, and snowy bright winters
Home to the Royal Winnipeg Ballet, Winnipeg Symphony Orchestra, Manitoba Theatre Centre, Winnipeg Art Gallery, and Contemporary Dancers
Sports teams including Winnipeg Goldeyes (baseball), Winnipeg Blue Bombers (football), Manitoba Moose (hockey), and The University of Winnipeg's own Wesmen (volleyball and basketball)
Over 130 days of festivals annually
Great shopping at the city's malls and in shopping/entertainment districts like Osborne Village, Corydon, the Exchange, and Winnipeg's French quarter, St. Boniface
Outdoor sports like hockey, cycling, golf, skating, tobogganing, and fishing
High standard of living at a low cost
Purest air and cleanest drinking water of any North American city over 500,000 people